Posts for tag: sensitive teeth
By Kevin L. Ragsdale, D.D.S.
April 26, 2021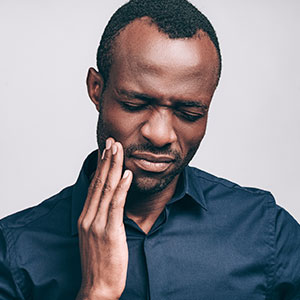 A scoop of ice cream is one of life's little pleasures. But for one in three Americans, it could be something altogether different—an excruciating pain when cold ice cream meets teeth. This short but painful experience that can happen when dental nerves encounter hot or cold temperatures is called tooth sensitivity.
A look at tooth anatomy will help explain why. Teeth are mainly composed of outer enamel, a layer of nerves and blood vessels within the tooth called the pulp, and dentin, a porous layer in between. The pulp nerves pick up temperature and pressure sensations from outside the teeth through a network of tiny passageways (tubules) in the dentin. Enamel muffles these sensations before traveling the tubules, which prevents overstimulation of the nerves.
This careful balance can be disrupted, however, if the enamel becomes eroded by acid from foods or beverages, or as a byproduct of bacteria. This exposes the underlying dentin to the full brunt of outward sensations, which can then impact the nerves and cause them to overreact.
This hyper-sensitivity can also occur around the tooth roots, but for a different reason. Because the gums primarily protect this area rather than enamel, the roots can become hyper-sensitive if they lose gum coverage, a condition known as gum recession caused mainly by gum disease or over-aggressive hygiene.
Besides using dental products that block nerve sensation, reducing sensitivity largely depends on addressing the underlying cause. If gum disease, the focus is on removing plaque, a bacterial film on dental surfaces that causes and sustains the disease. Stopping an infection allows the gums to heal and hopefully regain their original teeth coverage. More advanced cases, though, may require grafting surgery to foster gum regeneration.
If the cause is enamel erosion or other results of decay or trauma, we can utilize a number of treatments depending on the extent of tooth damage including cavity filling, root canal therapy or crowning. As a last resort, we may need to remove a tooth that's beyond reasonable repair.
If you've begun to experience sensitive teeth, it's important that you see us as soon as possible. The earlier we can diagnose the cause, the less invasive we can be with treatments to ease or even stop this most unpleasant experience.
If you would like more information on tooth sensitivity, please contact us or schedule an appointment for a consultation. You can also learn more about this topic by reading the Dear Doctor magazine article "Treatment of Tooth Sensitivity."
By Kevin L. Ragsdale, D.D.S.
January 06, 2021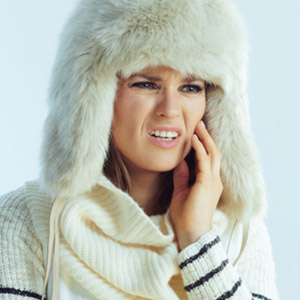 If a breath of crisp winter air makes you say, "Ouch!" you're not alone. According to a study published in the Journal of the American Dental Association, one of every eight people suffers from tooth sensitivity. And for those individuals, winter can be a particularly challenging time of year.
Tooth sensitivity can result when the inner part of the tooth, called dentin, is exposed. Dentin is normally protected by enamel above the gum line and cementum below, but if the protective coating is lost, then temperature, pressure and acid from food and drinks can activate the nerves inside the tooth.
If you suffer from tooth sensitivity, these tips may help:
Avoid acidic foods and beverages. It may be common sense to stay away from foods and drinks that are hot or cold enough to make you wince, but also avoid those that are acidic, as acid can erode tooth enamel and increase tooth sensitivity.
Wait an hour to brush your teeth. After consuming acidic food or beverages, give your saliva time to neutralize the acid and strengthen the enamel surface to prevent erosion.
Brush gently. Gums can recede due to over-aggressive brushing, exposing sensitive tooth roots. So brush your teeth gently with a soft-bristled toothbrush and rinse with lukewarm water.
Use toothpaste for sensitive teeth. Toothpaste that is specially formulated for sensitive teeth blocks the pores in the tooth's surface where sensitivity can occur. It may also to help to rub the toothpaste on sensitive areas.
Sometimes, however, sensitive teeth result from dental problems that need professional treatment in the form of an at-home prescription, an in-office treatment like bonding or sealants, or a procedure like a gum graft or root canal. Accordingly, here's the most important tip of all:
Schedule a dental appointment. In an exam, we can look for the cause of your tooth sensitivity so it can be treated properly. Sensitivity may result from receding gums, tooth decay, erosion of the enamel, or other dental problems, such as the following:
Tooth-grinding. If we detect signs of a nighttime tooth grinding habit that you may not even be aware of, we may recommend a nightguard to wear while sleeping.
A root infection. If your tooth remains sensitive 30 seconds after eating or drinking something hot or cold, the pulp inside your tooth may be damaged. You may need root canal therapy to remove the infection and stop it from spreading.
A cracked tooth. A crack in a tooth may not be visible due to its size or location, but a compromised tooth surface can cause sensitivity and could lead to bigger problems if not treated.
Don't let tooth sensitivity get you down this winter. Come see us so we can discuss the right treatment for you.
If you would like to know more about treating sensitive teeth, please contact us or schedule a consultation. To learn more, read the Dear Doctor magazine article "Treatment of Tooth Sensitivity."
By Kevin L. Ragsdale, D.D.S.
November 03, 2019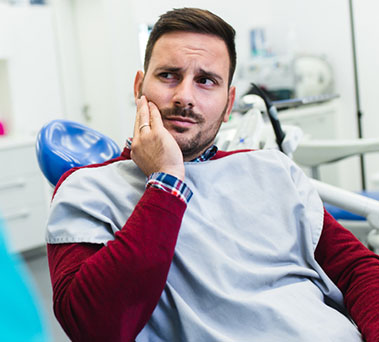 If you wince in pain while eating or drinking something hot or cold, you're not alone: tooth sensitivity afflicts one in three Americans. To understand what's possibly going on, let's look first at tooth anatomy.
Teeth are mainly composed of three layers: an outer protective enamel that covers the upper crown, a middle layer called dentin and an inner pulp. The dentin is composed of small tubules that transmit outer temperature and pressure sensations to nerves in the pulp.
The enamel serves as a "muffler," damping sensations to protect the nerves from overload. In the root area, the gums and a thin material called cementum covering the roots also help muffle sensation.
But sometimes teeth can lose this muffling effect and the nerves encounter the full brunt of the sensations. The most common reason is gum recession, usually caused by periodontal (gum) disease. The gums have shrunk back or "receded," and after a short while the cementum covering will also be lost, exposing the dentin in the root area.
Another problem is enamel erosion caused by mouth acid. Chronic high acidity, often caused by bacterial growth or acidic foods and beverages, can dissolve the enamel's mineral content, causing decay and exposure as well of the underlying dentin.
To avoid future tooth sensitivity, it pays to prevent these two dental problems. The most important thing you can do is practice daily brushing and flossing to reduce bacterial plaque and see your dentist regularly for dental cleanings and checkups.
But if you're already experiencing symptoms, you'll first need an accurate diagnosis of the cause. If it's related to gum disease, immediate treatment could help stop or even reverse any gum recession. To address enamel erosion, your dentist may be able to protect and strengthen your teeth with sealants and topical fluoride.
There are also things you and your dentist can do to reduce your symptoms. One is for you to use hygiene products with fluoride, which can take the edge off of sensitivity, or potassium, which helps reduce nerve activity. Your dentist can further reduce nerve sensitivity by blocking the tubules with sealants and bonding agents.
Tooth sensitivity is an irritating problem in itself; more importantly, though, it's often a warning of something else seriously wrong that needs attention. If you're feeling a little sensitive in the teeth, see your dentist as soon as possible.
If you would like more information on tooth sensitivity, please contact us or schedule an appointment for a consultation. You can also learn more about this topic by reading the Dear Doctor magazine article "Treatment of Tooth Sensitivity: Understanding Your Options."