Posts for: December, 2013
By Kevin L. Ragsdale, D.D.S.
December 24, 2013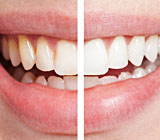 You have a beautiful smile, but you hesitate to show it because of your stained teeth. Fortunately, whitening techniques could take away that embarrassment.
There are two basic types of tooth staining or discoloration: extrinsic, in which the stain is on the surface of the teeth and mostly caused by substances like coffee, wine or tobacco; and intrinsic, which occurs deep within the tooth, caused by such factors as aging, previous dental treatments and fillings, the use of antibiotics (tetracycline, predominantly), or over-exposure to fluoride.
Whitening or bleaching is an effective and relatively affordable solution for many instances of both intrinsic and extrinsic staining. Bleaching solutions are available in over-the-counter (OTC) home kits or as a professional application in the dental office.
Most bleaching solutions use carbamide peroxide, a chemical compound that is effective in removing most stains. OTC home applications contain carbamide peroxide (or an equivalent) in concentrations of about 10% as opposed to 15-35% found in professional solutions. Though less costly than a professional application, OTC products take longer (usually up to three weeks) to achieve desired results. With its stronger solution, a professional application in our office can achieve the same level of brightness in only one or two visits. We may also use special lighting to accelerate the chemical process, as well as rubber dams or gels to protect gums and soft tissues from solution irritation during the procedure.
Although effective, whitening isn't a permanent solution — over time the effect will fade, usually six months to a year depending on how you care for your teeth. Matching tooth color can also be difficult in some cases, especially if you have a mix of natural teeth and artificial crowns or bridges. And, whitening may not be adequate for some types of staining.
Regardless of which application you wish to use — OTC or professional — it's a good idea to visit us first for a professional consultation. We can recommend whether whitening is a good choice for your particular type and level of staining, or if some other option like porcelain veneers might be the better choice. Regardless, there are solutions to the problem of staining, and a way to gain a brighter smile.
If you would like more information on bleaching, please contact us or schedule an appointment for a consultation. You can also learn more about this topic by reading the Dear Doctor magazine article "Teeth Whitening."
By Kevin L. Ragsdale, D.D.S.
December 10, 2013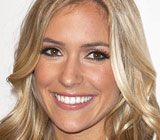 While she was pregnant with her son Camden Jack Cutler, 25-year-old Kristin Cavallari noticed an odd occurrence in her bathroom sink: "Every time I floss, my sink looks like I murdered somebody!" the actress and reality-TV personality exclaimed. Should we be concerned that something wicked is going on with the star of Laguna Beach and The Hills?
Before you call in the authorities, ask a periodontist: He or she will tell you that there's actually no mystery here. What Cavallari noticed is, in fact, a fairly common symptom of "pregnancy gingivitis," a condition that affects many expectant moms in the second to eighth month of pregnancy. But why does it occur at this time?
First — just the facts: You may already know that gingivitis is the medical name for an early stage of gum disease. Its symptoms may include bad breath, bleeding gums, and soreness, redness, or tenderness of the gum tissue. Fundamentally, gum disease is caused by the buildup of harmful bacteria, or plaque, on the teeth at the gum line — but it's important to remember that, while hundreds of types of bacteria live in the mouth, only a few are harmful. A change in the environment inside the mouth — like inadequate oral hygiene, to use one example — can cause the harmful types to flourish.
But in this case, the culprit isn't necessarily poor hygiene — instead, blame it on the natural hormonal changes that take place in expectant moms. As levels of some female hormones (estrogen and/or progesterone) rise during pregnancy, changes occur in the blood vessels in the gums, which cause them to be more susceptible to the effects of bacterial toxins. The bacteria produce toxic chemicals, which in turn bring on the symptoms of gingivitis — including painful and inflamed gums that may bleed heavily when flossed.
Is pregnancy gingivits a cause for concern? Perhaps — but the condition is generally quite treatable. If you've noticed symptoms like Kristen's, the first thing you should do it consult our office. We can advise you on a variety of treatments designed to relieve the inflammation in your gums and prevent the harmful bacteria from proliferating. Of course, your oral health (and your overall health) are prime concerns during pregnancy — so don't hesitate to seek medical help if it's needed!
How did things work out with Kristen? She maintained an effective oral hygiene routine, delivered a healthy baby — and recently appeared on the cover of Dear Doctor magazine, as the winner of the "Best Celebrity Smile" contest for 2012. And looking at her smile, it's no mystery why she won.
If you would like more information about pregnancy gingivitis, please contact us or schedule an appointment for a consultation. You can also learn more by reading the Dear Doctor magazine articles "Expectant Mothers" and "Kristen Cavallari."