Posts for: April, 2013
By Kevin L. Ragsdale, D.D.S.
April 20, 2013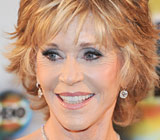 Not long ago, Jane Fonda gave a British interviewer a clue as to how she manages to look so young at her advanced age. During the 2011 Cannes Film Festival, the septuagenarian actress and fitness guru said to a journalist from the London-based Daily Mail, "See these teeth? They cost $55,000. It was teeth or a new car — and I opted for the teeth."
We think she made the right choice — though she might have overpaid just a tad. Most people don't have that kind of cash to spend on either a car or new teeth. But luckily, you can get either for a lot less — particularly the teeth!
The truth is, at a reasonable cost, cosmetic dentistry really can make you look a lot younger while giving your self-esteem a tremendous boost. It's an investment in both your emotional and oral health as we will never implement a smile makeover without first making sure we've addressed any underlying dental disease. Best of all, it doesn't have to cost anywhere near what you'd pay for the latest-model Jaguar, the price tag of Fonda's smile notwithstanding. Here is a list of the more common cosmetic dental techniques used to enhance a person's smile:
Whitening — a peroxide-based bleach is applied directly to the teeth to remove minor staining and discoloration.
Bonding — an acrylic material is applied to a tooth, colored and shaped to match the person's other teeth. Primarily used for chipped, broken or decayed teeth.
Enamel Shaping — the removal of very tiny amounts of enamel, the tooth's outer layer, for a more pleasing tooth shape.
Veneers — a thin shell of custom-designed tooth-colored material, usually porcelain, affixed to the front surface of the teeth.
Crowns and Bridgework — a technique that covers heavily damaged teeth or replaces missing teeth by capping them, or using capped teeth to support one or more false teeth.
Dental Implants — a small titanium post is surgically implanted in the jawbone to replace the root-part of a missing tooth. A lifelike crown is attached to the implant above the gum line and is the only part of the whole tooth restoration that is visible in the mouth.
Gum Contouring — a minor surgical procedure altering the position of the gum tissue to improve the look and regularity of the gum line around the teeth.
If you'd like more information on cosmetic dentistry, please contact us or schedule an appointment. To learn more, please read the Dear Doctor magazine articles, "Beautiful Smiles by Design" and "The impact of a Smile Makeover."
By Kevin L. Ragsdale, D.D.S.
April 05, 2013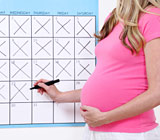 Every pregnant woman knows that her body will go through a series of profound changes as it's making a new life. Along with the alterations in overall size and changes in eating and sleeping patterns, pregnancy also affects the teeth and gums. Here are some answers to common questions women may have about oral health during pregnancy.
1) What's the most important thing I can do for my baby's oral health?
Maintain your own dental and general health! Eat a healthy and balanced diet — it provides the nutrients, vitamins and minerals needed for proper development of your baby's teeth and bones. While food cravings and aversions are common, try to at least limit your intake of sugary snacks to mealtimes. Don't neglect the good habits of brushing, flossing, and seeing your dentist regularly. This will help minimize the possibility of tooth decay or gum disease.
2) Does pregnancy make me more susceptible to gum disease?
Yes. "Pregnancy gingivitis" ("gingival" – gum tissue; "it is" – inflammation of) may develop from the second to the eighth month. This is mostly due to elevated hormone levels. In the presence of gum disease, pregnancy hormones may stimulate the production of prostaglandins, which cause inflammation of gum tissues. Occasionally, benign growths called "pregnancy tumors" may also appear on the gums during the second trimester. If they don't resolve themselves, these may be surgically removed after the baby is born.
3) With all my other concerns right now, why is the health of my teeth and gums so important?
Several studies have shown a link between periodontal (gum) disease, pre-term delivery and low birth weight — conditions which put some newborns at greater risk for health complications. There's also a correlation between more severe periodontal disease and an increased rate of pre-eclampsia, a potentially serious condition. But treating periodontal disease decreases the level of inflammation-causing prostaglandins. That's one reason why you should come into our office for an evaluation as soon as you know you're expecting.
4) Is it safe to get dental treatments while I'm pregnant?
Dental examinations and routine treatment during pregnancy is generally safe for both mom and baby. If you need non-urgent dental care, it may be most comfortable in the first five months of pregnancy. Situations requiring urgent care are managed as they arise, to treat pain and infection and to reduce stress to the developing fetus. Under the watchful eye of your dentist, it's possible to have anesthesia, X-rays and dental medications (if needed) without undue risk. So don't let worries about dental treatments keep you from coming in for a check-up!
If you would like more information about pregnancy and oral health, please contact us or schedule an appointment for a consultation. You can also learn more about this topic by reading the Dear Doctor magazine articles "Pregnancy and Oral Health," and "Expectant Mothers."