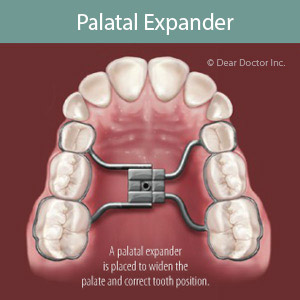 At what age should you begin treating a poor bite? Many might say with braces around late childhood or early adolescence. But some bite problems could be addressed earlier—with the possibility of avoiding future orthodontic treatment.
A crossbite is a good example. In a normal bite, all of the upper teeth slightly cover the lower when the jaws are shut. But a crossbite occurs when some of the lower teeth, particularly in back, overlap the upper teeth. This situation often happens when the upper jaw develops too narrowly.
But one feature of a child's mouth structure provides an opportunity to intervene and alter jaw development. During a child's early years, the palate (roof of the mouth) consists of two bones next to each other with an open seam running between them. This seam, which runs through the center of the mouth from front to back, will fuse during puberty to form one continuous palatal bone.
An orthodontist can take advantage of this separation if the jaw isn't growing wide enough with a unique device called a palatal expander. This particular oral appliance consists of four, thin metal legs connected to a central mechanism. The orthodontist places the expander against the palate and then uses the mechanism to extend the legs firmly against the back of the teeth on both sides of the jaw.
The outward pressure exerted by the legs also widens the seam between the two palatal bones. The body will respond to this by adding new bone to the existing palatal bones to fill in the widened gap. At regular intervals, the patient or a caregiver will operate the mechanism with a key that will continue to widen the gap between the bones, causing more expansion of the palatal bones until the jaw has grown to a normal width.
The palatal expander is most effective when it's applied early enough to develop more bone before the seam closes. That's why it's important for children to undergo bite evaluation with an orthodontist around age 6. If it appears a bite problem is developing, early interventions like a palatal expander could slow or stop it before it gets worse.
If you would like more information on interceptive orthodontics, please contact us or schedule an appointment for a consultation. You can also learn more about this topic by reading the Dear Doctor magazine article "Palatal Expanders."