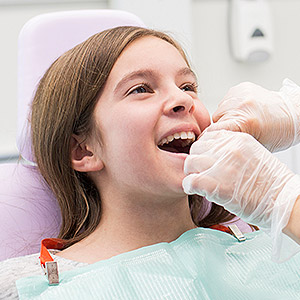 So, how's your child's bite? No, not how well they clamp down on things (like fingers—yikes!), but how the teeth on both jaws interact with each other. It's important to know because a bite problem can be a serious health concern.
A poor bite can lead to more than an unattractive smile. Misaligned teeth are more difficult to keep clean, which can increase the risk of both tooth decay and gum disease. Poor bites also lower the efficiency of chewing and food processing, making it harder for the body to absorb the nutrients it needs for optimum health. And, a poor bite can adversely affect the airway, which could lead to problems with obstructive sleep apnea later in life.
But finding out that your child's bite is going off course is a good thing—provided you discover it in its initial stages of development, that is. Early detection opens the door for interventions that could "right the ship," so to speak. In recognition of National Orthodontic Health Month this October, here are 4 things you can do to make that possible with a developing bite problem.
Get a bite evaluation. Although an abnormal bite develops gradually, it often provides early, subtle signs. An orthodontist or pediatric dentist can often detect these before the bite problem becomes too pronounced. It's a good idea, then, to have your child undergo an orthodontic evaluation around age 6.
Be alert to abnormalities. You may also be able to pick up some of these signs of abnormal bite development yourself. For example, if all the upper teeth don't slightly overlap the lower, something could be amiss. Likewise, crooked teeth, excessive gaps between teeth, or front teeth jutting too far forward are causes for concern. If you notice anything out of the ordinary, see your dentist as soon as possible.
Seek early treatment. You don't always have to wait until the teen years to start orthodontic treatment. Depending on the type of bite problem, interventional treatments can lessen or even stop poor bite development—in some cases, you may even be able to avoid future treatments like braces. As mentioned before, a bite evaluation around age 6 will facilitate the most treatment options.
Follow through on treatments. Orthodontic treatments are a lot like running a marathon—even after a long race, you're only truly successful if you cross the finish line. With bite correction, that finish line isn't necessarily when the braces come off—treatment continues with retainers to ensure there isn't a reversal of all that's been accomplished.
A bite problem can reverberate throughout a person's lifetime. But it doesn't have to! Being alert to your child's developing bite and taking prompt action can ensure they'll enjoy straighter teeth, more efficient dental function and an attractive smile.
If you would like more information about your child's orthodontic health, please contact us or schedule a consultation.