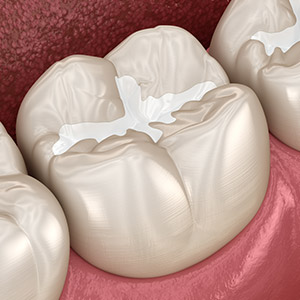 Even with dedicated daily home care and regular dental cleanings, some children still have problems with cavities. And, that could morph into an even more serious problem in the future: Primary teeth lost prematurely to the disease could cause incoming permanent teeth to erupt out of position and form a poor bite.
To avoid this, parents often need a little extra help protecting their children's teeth from cavities. One way is with a dental sealant applied to larger teeth by their dentist.
A dental sealant is a protective coating of plastic or glass-like material that partially fills in the pits and crevices of the biting surfaces of larger teeth like molars. Even with diligent brushing it can be difficult to clean these surfaces of plaque, thus allowing bacteria to hide out in deep crevices. By "smoothing" out these areas with a sealant, they're easier to rid the teeth of decay-causing plaque.
Your child can undergo a quick and painless sealant application during a routine visit. After applying the liquid form of the sealant to the teeth with a brush, the dentist uses a curing light to harden the coating into a durable defense against decay.
Dentists have been applying sealants for several years now, which begs the question—do they work? At least two major studies say yes.
These independent studies both surveyed thousands of pediatric patients over several years. And, they both concluded that children with sealants experienced significantly fewer cavities than those without sealants. Furthermore, the protection appeared to last at least four years after the application.
A sealant application does involve a modest cost per tooth. But compared to what you'll spend to treat cavities, or even expensive orthodontic treatment later, sealants are well worth the cost.
If your child continues to develop cavities regardless of home and dental care, then talk with your dentist about sealants and other ways to minimize cavities. Taking these extra steps could help prevent a problem now, and a bigger problem in the future.
If you would like more information on dental care for children, please contact us or schedule an appointment for a consultation. You can also learn more about this topic by reading the Dear Doctor magazine article "Sealants for Children."